Books
"I am an amateur of some 30 years, jazzing around with a variety of instruments and collecting a pile of music that resembles those piles of National Geographics holding down the basements of America—all good stuff but not "where its at." I keep looking, as I am sure many others do, in music stores and online for that bolt out of the blues that will get me through where ever I am in music and onto the next level of understanding and ability. Sarah's books speak to me. They really do. They have a rare combination of intellectual insights, rigorously well trained by the traditions of music, and her personal ability do cut through the knots and notes with precision and humor. They are always on the top of the pile holding down my piano."
—Peter Nicol, Sarah's biggest fan in the Pacific Rain Forest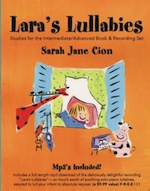 Lara's Lullabies
Studies for the Intermediate/Advanced Book & Recording Set
Includes a full-length mp3 download of the deliciously delightful recording "Lara's Lullabies"— an hour's worth of soothing solo piano lullabies, assured to lull your infant to absolute repose! 
(a $9.99 value) F-R-E-E ! ! !
"This is a wonderful project with musical heart and soul, having a strong, sincere, universally clear concept with personal artistic integrity. These 17 individual ballads, modeled after Bach's Well-Tempered Clavier provide an hours' worth of pure peacefulness as well as a lifetime of musical pleasure."
—Bob Karcy
President, Arkadia Records   MORE!
 A Baker's Dozen: 13 Contemporary Jazz Etudes: Studies and Etudes for the Intermediate/Advanced (Paperback)
"Sarah Cion, an extraordinary pianist, has given us a wonderful collection of Etudes that appeal to all music lovers, both classical and jazz teachers and students.They are pianistically well written for the hand and truly enjoyable to play and listen to. My students love them !" —Dianne Goolkasian Rahbee
MORE!
The Pianist's Jammin' Handbook!
Keyboard Instruction with FREE Mp3 Downloads available! The Pianist's Jammin' Handbook! Volume I Studies and Etudes for the modern
jazz pianist.
MORE!
Steinway Library Of Piano Music: Jazz Piano — Pieces To Grow On
The Steinway Library of Piano Music presents Jazz Piano Pieces to Grow On, a collection of jazz pieces that has been created for teachers, students and pianists searching for music that explores various jazz piano styles, is enjoyable to play, and that can also serve as new and exciting recital and performance repertoire.
MORE!
Modern Jazz Piano
I'm excited to present the building blocks that provide the foundation for jazz
improvisation. This book is geared toward the student who has already achieved
an intermediate level of sight-reading and technical facility, but who has
had limited exposure to jazz along the way.
MORE!